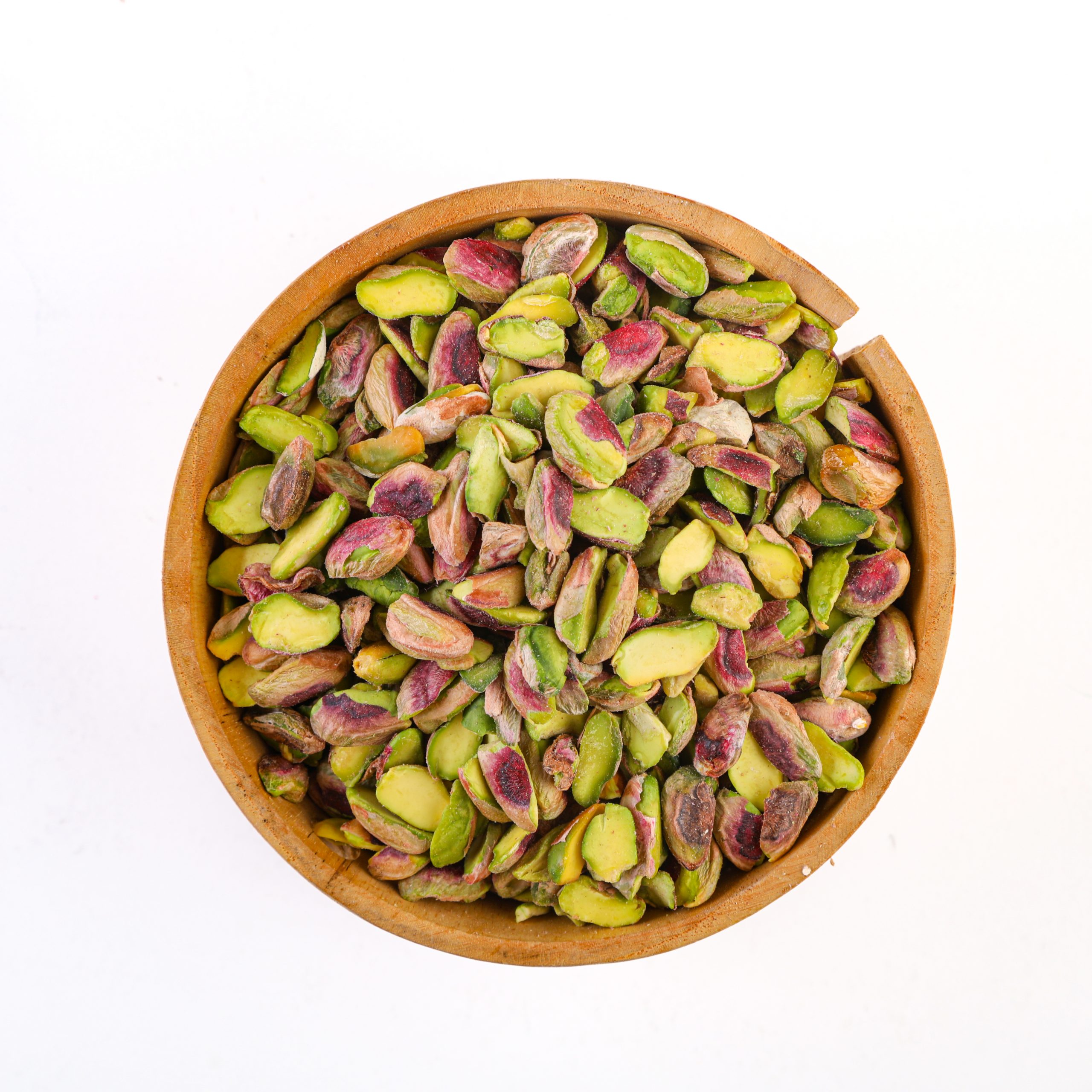 pistachio Kernel
 (ahmad aghaei)
pistachio Kernel
(kale ghoochi)
Pistachios are tasty delectable nuts having been consumed in both industrial and domestic productions since ancient times, not solely because of their delightful salty tastes but because of a wide variety of health benefits and rare savors.
This luxuriant and smiling member of cashew family can be accounted as a strategic source of potassium and phosphor, also a great deal of energy and vitamin A embedded itself in just 100 grams of pistachio.  
Pistachio trees are small or medium sized sort of trees that have been grown in the Middle-East and Levant, however, during the last century thanks to the development of agriculture in the U.S, after Iran, America is the second producer of pistachio.
Today, from China to the Western countries, people are into pistachio in a variety of forms and procreators, and for instance, pistachio kernels have several uses in cooking as a delicious cream for cooking cheese biscuits or as a crispy chips in chocolates.
Interestingly, in Iran people give one another well-designed boxes of Iran pistachio kernels as a brackish and fragrant gift. It connotes respect, kindness and a deep sense of happiness
Iran pistachio kernel: different sorts, different uses
There are various sorts of pistachio while all of them have a rather similar taste quintessentially. The main difference between them relates to their shape; some of them have almond-like pods and some are hazelnut-like.
In a very popular act of categorizing, pistachios' sorts are being divided to firstly Akbari pistachio which is a highly qualified ones, then white pistachio which belongs to the city of Rafsanjan's orchards, Qazvin pistachio, Damghan pistachio, and prominent pistachio. In the following we will draw out momentous aptitudes of all sorts mentioned above.
Akbari pistachio:
Pistachios cultivated in Iran have various advantages that set it apart from its American and Turkish competitors. For instance, Akbari sort of pistachio, which is a well-grown and well-procreated Iran kernel pistachio, has a maximum rate of proportion in terms of flesh percentage at odds with overall mass.
The main reason for this is the high amount of oil in Iranian kernel pistachios, especially Akbari pistachio, which makes its taste better than its competitors when cooked at high temperatures.
The main source of growth and development of Akbari pistachio is in Kerman province with a dry and desert climate; in the heart of the desert, in some areas are orchards and pistachios; that is paradise on earth brings us food from the heart of Mother Nature that Akbari pistachio is turquoise agate of this celestial table.
White pistachio of Rafsanjan
This sort of Iran pistachio kernel is a pure ambrosia; Rafsanjan pistachio is the first in terms of taste, flavor and texture of its flesh because this Iran pistachio kernel has a good level of oil that makes it taste scrumptious. Moreover, the moisture of the surrounding pistachio trees being grown also creates a delicious taste in the nuts.
Qazvin pistachio
This pistachio will reach the ripening stage soon. For this reason, it is a good choice for industrial use. Chopped nuts of this type of pistachio are used in confectionery and chocolate making because its size is a little bit smaller than its Kermani competitors, and the eye-catching jade color seizes the heart of anyone who works in the food industry.
Damghan pistachio
The city of Damghan is another region within which a high amount of Iran pistachio kernel would have come. The best excerpts of kernels are being exported every year from Damghan's orchards of pistachio. There are different types of Damghan pistachios, including Koleghoochi pistachios and hazelnut pistachios.
Prominent pistachio
This sort of pistachio is the impeccable excerpt of Akbari or Rafsanjan pistachios sold under the title of prominent or the like, which is more elongated than other types. These premium pistachios are all the same shape, size and smiling.
Prominent Health Benefits of Pistachio!
Vitamins, minerals, antioxidant compounds and healthy fats are constituent of pistachio that you can supply your body with effectively and delightedly.
So it is not surprising that Iranian vegetarians would be modern consumers of pistachio. In fact, the vegetarian lifestyle benefits greatly from eating pistachio. Hence, it would be a nice choice to add these nuts into your daily diet, if you were a vegetarian.
Since Iran pistachio kernels are high in calories, although rich in fiber too, you need to make a balance in your overall calorie consumption to add pistachios safely to your diet. Some Iranian nutritionists recommend that the safe limit is 20-25 pistachios each day. In addition, for people with milder diabetes, pistachios are a natural remedy for lowering blood pressure.
Nevertheless, Pistachio's fat can boost your cardiovascular system, and you are able to avoid heart attack by adding pistachio to your diet. It is reported that pistachio or almond oil can hamper cardiovascular disease up to 30% in people over 50.
Characteristics of Iran pistachio kernel
Fragrant and beautiful, pistachios will enchant you at first sight; the red color of the kernel of this type of pistachio has a special manifestation. On the other hand, bone-colored  skin is very bright and dazzling. In general terms, Almond-shaped and elongated Iran pistachio kernels are quite unique and smiling.
The pods of the nuts contain antioxidants that protect the oxidation of atmospheric oxygen-rich granules to prevent rotting (oxidative microstructure). After harvesting the kernel, the bright green seeds are a sign of fresh flesh.
Iran pistachio kernels remain at a temperature of zero degrees Celsius with a humidity level of 60 to one year. After one year they started to rot if the circumstances weren't appropriately ready. This duration can be protracted up to three years under the circumstances in -8 degree.
Surprising uses of Pistachio
As a luxury flavoring, pistachios are widely used in ice cream, chocolate, cakes, salads, sandwiches and seafood dishes. So, if you do not want to eat Iran pistachio kernels as nuts, there are creative ways you can add this nutritious food to your diet. For example, sauces that use pistachios not only improve the quality of food but also its nutritional value.
Pistachio oil contains significant amounts of vitamin E, so it is not surprising that many women use pistachio oil as a natural face mask. Pistachio oil also acts as a natural sunscreen, so you can add some of it to your moisturizer or apply it to your body while sunbathing on the beach. It is also a good table oil for those whose salad is an integral part of their diet. In French cuisine, pistachio oil has always been a good accompaniment to goat cheese, and avocado pieces in salad.
Furthermore, the shells are very effective fertilizer. Nut shells such as pistachio shells are good for producing compost. Because the shells might take a few years to decompose, so they make the compost less massy, however, they add bulk. Pistachio shells also help out with keep water and avoid humidity retention.
Pistachio shells could be a good component as a supplement to the mulch, so if you have any extra, pour them into the mix. A good tip is that you should soak them in order to be more soil friendly and soft for the mixture.